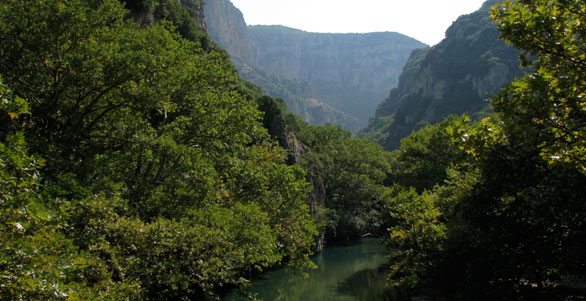 ZAGOROHORIA
Zagorohoria are famous for their incredible natural beauty)
Primitive forests, rough gorges and cool ravines with crystal waters, which are going through and fine arcaded bridges, with which are connected, keep well protected the 46 stone villages of Zagori.
Zagorohoria are located at the south of Ioannina and are built like aeries at the slopes, the ridges and the mountains among Timfi, Mitsikeli, Tsouka Rossa and Aoos River. The word "Zagori" was first appeared in a document of 1321; it is of Slavic origin and means: "a place behind the mountain".
Zagorohoria are famous for their incredible natural beauty, their unique architecture and their long history. Of course not wrongly, since the shocking landscape, the picturesqueness of each village and the unlimited possibilities of exploration and every kind of activities, really charm and impress every visitor.
In the whole built place of Zagori the wealth from the past years through mansions, schools and noble churches is obvious until today. Zagorohoria are separated in three geographic parts: Eastern, Central and Western Zagori. Every part has its own special beauty and history.
Western Zagori is located at the northwest of Ioannina and includes the very famous villages of the valley of Voidomatis: Mikro and Megalo Papigo, Aristi, Vikos, Saint Mhnas and Mesovouni. On that area lies the Hotel Faraggi and specifically, next to the Voidomatis river.