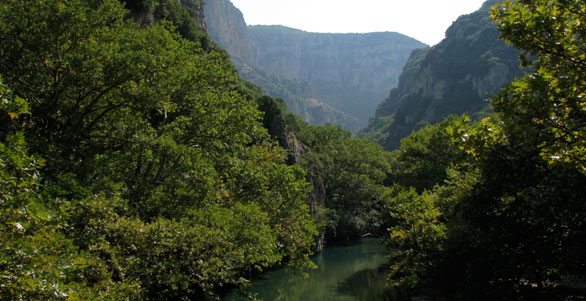 THE HOTEL
YOUR IDEAL CHOICE...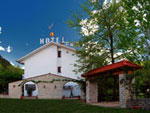 Hotel Faraggi was named like this by the magic canyon of Voidomatis. It is a very beautiful region, which begins from the stone bridge of Kleidonia, next to the hotel, and reaches until the west exit of the National Park of Vikos-Aoos, between the villages of Papigo and Vikos. The age-old platans, the wild flora along the river and its crystal water compose magic scenery. In this place you have the chance to awaken by the woodnote and sleep with the cradlesong of the water that trickles at Voidomatis.
Hotel Faraggi offers modern comforts combined with the traditional hospitality, homelike service and perfect cleanness. It has 19 comfortable rooms (11 double bed rooms, 7 triple bed rooms and a bigger one for a family, all of them have a bathroom, a hair dryer, central heating and air-conditioning, TV, telephone and wi-fi internet), a living room with a fireplace and a restaurant with a space for conferences or other events.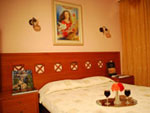 In the hotel you will feel comfortable from the first moment. Its people, who know well the honest hospitality of Epirus, will take care of not missing you anything. Also, a good day begins with a good breakfast. Our hotel is famous for its amazing breakfast, made of pure products of the region. Homemade marmalades, sweets, pies from Zagori, frumenty, apple-pie, currant buns, pancakes are some of the things that the hostess of the hotel, Mrs. Eirini, makes with love many years ago and cares of personally for all of her guests.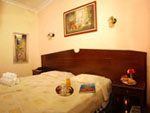 The hotel's great advantage is the huge green garden, full of trees and flowers; where at summer you can enjoy your breakfast, your coffee or your food. In winter next to the fireplace or in summer on the lush courtyard of the hotel, you can enjoy your coffee or your drink in the sound of river Voidomatis or with an interesting book from the library of the hotel with its rare publications, which will travel you at the nature and history of the place.
See more photos...