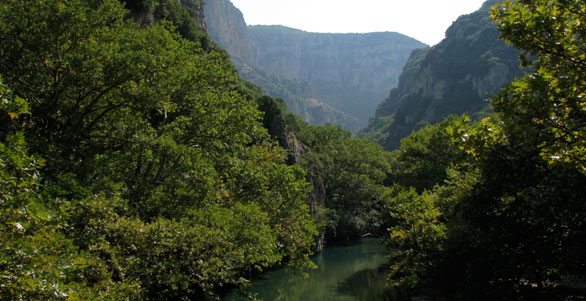 REGION
Ano Kleidonia
The old village of Kleidonia is located 8 km from the hotel at an altitude of 880. The view from Ano Kleidonia is impressive. The eye "participates" in the synthesis of a colorful painting with the background of the plain of Konitsa and of the surrounding villages at the point of the union of the two great rivers, Aoos and Voidomatis.
At Ano Kleidonia the many post-Byzantine monuments are of remarkable interest. At the entrance of the village, is the church of St. Athanasios, with breathtaking view of the valley, which was built in 1617 and is full of amazing art murals. The parish church of the village, Koimhsh of Theotokos, is located in the center of the village and it is dating from the 17th century. Just beyond is St. Nikolaos, built in 1620 in a special way, and smaller temples such as the Prophet Ilias, at the path that leads to half an hour in the village of Papigo and Agia Paraskevi at the northern end of the village.
Also, it is noteworthy the Monastery of Agious Apostolous, dating from 1662, has remarkable frescoes and is classified as a historical monument. Note that from Ano Kleidonia remarkable paths start and lead upward, at the top of Koula, at Papigo and downwards, towards the plain, in the modern village of Kleidonia.