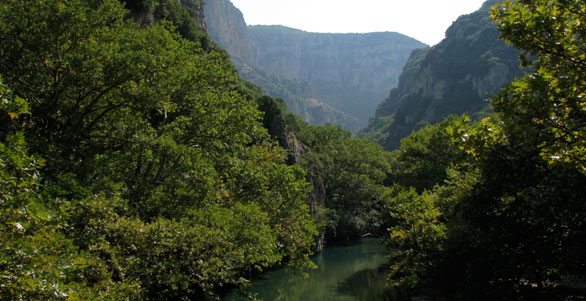 KONITSA
One of the most beautiful border regions of Greece
Undoubtedly Konitsa is one of the most beautiful border regions not only of Epirus but of all over Greece. It is the place of the rivers (Aoos, Voidomatis, Sarantaporos, Kerasovitikos), the mountains (Timfi, Smolikas, Grammos, Nemertsika), the thermal baths (Kavasila, Amarantos). It is the place from where the adventure sports started. Gorgeous mountains, impressive gorges, vivid geographical anaglyph, dense forests, rushing rivers, small fertile valleys and the plain of Konitsa compose a complex mosaic of ecosystems, which provides shelter to many rare species of wild fauna and uncultivated flora, while it is together one of the best destinations for those who love nature and adventure.
At Konitsa you surely will not be bored, especially if you are a lover of nature and its activities. Last years, Konitsa is known as the capital of alternative tourism, because it has a charismatic natural landscape, which is offered for various types of outdoor activities, like: rafting and kayak at Voidomatis and Aoos, mountain cycling, parachute, climbing. Mountains of Konitsa are called as the heaven of hiker and mountaineer. Many paths, which lead at the summits of big mountains or connect places, are characterized by natural beauties and have historical, folklore and natural interest.
Today Konitsa is the commercial and administrative centre of a province with 42 villages. It is a big organized village with sufficient market, schools, public services, banks and health centre, many food choices, bars for entertainment and places to visit. Moreover, upper Konitsa has been characterized traditional, with many old stone and historical mansions.