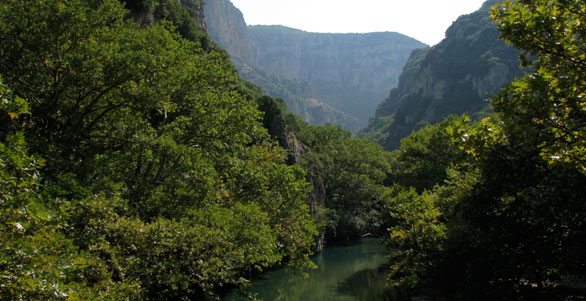 REGION
Bridges and traditional architecture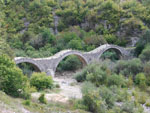 The Bridge of Noutsos or Kokoris was built in 1750. Its first name comes from Noutso Kontodimo, who spent the money for the building and the second by Gregory Kokoris, from Koukouli, who had the adjacent mill and often spent money for its maintenance.
The Bridge Kalogeriko or Plakida, is a three-arched bridge, 56 meters long, of unique architecture, which took its first name from the abbot of the Monastery of Prophet Elias of Vitsa, who in 1814 spent 20000 grosia for the building and the second by the benefactor Alex Plakida, which in 1865 undertook the expenses for its full restoration.
The Bridge of Konitsa, at Aoos River, is the largest single arch bridge of Balkan. It was built in 1870-71 by Ziogas Frontzos from Pyrsogianniti with donations from townsmen.
The Bridge of Kleidonia or Voidomatis, which is located next to the hotel, is a stone arch bridge which has an opening of 20 feet and height of 9 meters. From the Byzantine period, the bridge is built and rebuilt in order to be completed in 1853 at the expense of Balkiz Khanum, who allocated 37000 grossia that is a considerable amount for that time. The bridge was created to connect the region of Zagori with Konitsa.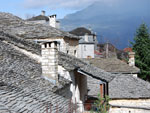 The bridge of the Zerma, at Sarantaporos is one of the few bridges in Epirus, which was founded in the mid of 18th century and still exists.
At the town of Konitsa is still worth visiting:
The mansion of Hussein Bey Cisco is located in the upper Konitsa. It is the largest landmark in Konitsa, which survives until today and it was built in 1845. All its' areas have rococo carved decoration, which was painted by wood carvers of the region.
The residential complex of Hamkois a complicated building of 18th and 19th centuries, which were the serai of Zeinel Bey, who was the grandfather of Ali Pasha by his mother, Chamko. The fortress-like structure of the residential complex, parts of which survive until today, and the construction of imposing buildings reveal the wealth of this powerful family that was the most prominent Muslims of Konitsa.
The Mosque of Sultan Suleiman was built in 1540 on the outskirts of town, near the river Aoos. It is one of the two mosques that are still preserved in Konitsa. According to tradition, Sultan Suleyman the Magnificent (1520-1566) is considered its founder. The mosque is completed by a hexagonal muslim tomb and a two-storey house, that was used as a school.